State of Innovation: R.I.'s ecosystem for entrepreneurs shows resilience
For the developers of Pointz, a navigation app geared toward safer routes for cyclists, Rhode Island offered a wealth of mentoring and networking opportunities, with accelerators, pitch contests and Brown University's entrepreneurship center helping the startup on the path to an official launch earlier this year.
It was finding capital that they thought was going to be a big hurdle.
"It's not a hotbed located here, like in Boston or the [San Francisco] Bay Area," said Maggie Bachenberg, CEO and co-founder of Pointz Mobility Inc.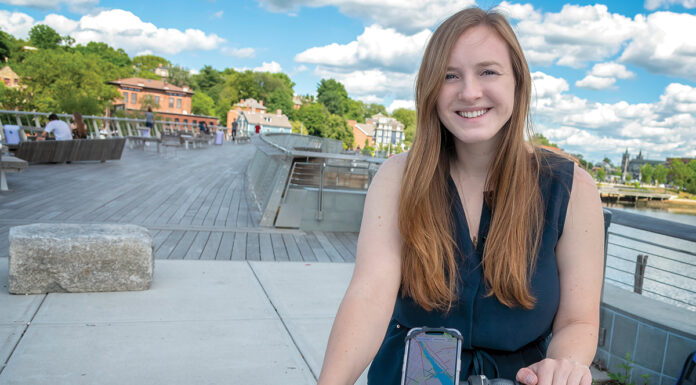 Turns out that securing a round of pre-seed funding wasn't as difficult as she feared.
Oregon-based private equity firm Rogue Venture Partners discovered Pointz at the Rhode Island Startup Week, held for the first time last fall, and the young company soon became Rogue's first investment in Rhode Island, the amount of which was undisclosed.
"It's a small place, but you can get the attention of people who can be really helpful," Bachenberg said. "Things like that you maybe wouldn't get in a bigger city, where there's more ventures, more competition for the spotlight."
Bachenberg's experience launching Pointz highlights a pathway that innovation leaders and entrepreneurs have noted in Rhode Island: while many continue to see funding capabilities as a limitation on the area's growth as an innovation hub, the state's entrepreneurship environment has demonstrated resiliency throughout the COVID-19 pandemic.
Despite the crisis, more startup services have been added and more entrepreneurs are launching companies and putting down roots in the Ocean State, according to data compiled by RIHub, a nonprofit startup support organization based in Providence.
Even the recent closures of a state office and an industry group dedicated to the technology sector – the R.I. Office of Innovation and the Tech Collective respectively – hasn't slowed things down, those in the entrepreneur community say.
RIHub says it was tracking 316 local startups in 2021, up from 177 in 2020. It also had 472 entrepreneurs in its database in 2021 – information the organization has collected through some form of direct interaction with the companies.
"We're on the ground every day, working hand in hand with Rhode Island's hightech startups," said Annette Tonti, RIHub managing director. "It's a great moment for companies starting here to stay here, and not having to move to Boston or New York, or some other place, because we're making sure you get what you need here."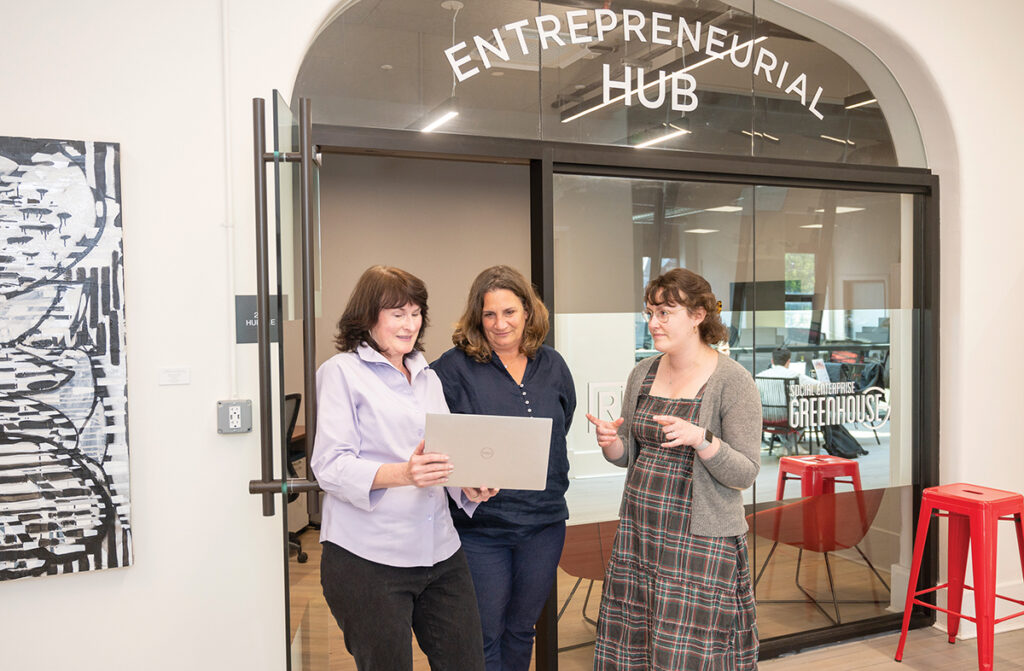 MISSING ZEAL
That wasn't the case years ago.
In the early 2000s, high-growth startups were beginning to spark excitement around the country, says Thorne Sparkman, longtime managing director of the Slater Technology Fund, the state's largest venture capital fund. But true launch pads for these ventures were confined to select pockets of the U.S., and Rhode Island wasn't one of them.
"Most of that crazy, revolutionary entrepreneurial zeal was happening in Silicon Valley, and a little bit in Boston," Sparkman said.
"There were certainly individuals doing that sort of thing in Rhode Island, but there was not a Cherrystone Angel Group [LLC]. There was not a Point Judith Capital," he said, referring to two venture capital firms that later formed in Rhode Island. "And there was just barely the beginning of the Slater Technology Fund."
Numerous startup incubators have also sprung up since those early days, Sparkman says, such as RIHub, Social Enterprise Greenhouse, 401 Tech Bridge, MassChallenge, and Brown University's Breakthrough Lab and Nelson Center for Entrepreneurship.
Still, there have been bumps in the road.
Some organizations have shifted services away from startups in the past decade: the Business Innovation Factory, established in 2005 by Providence entrepreneur Saul Kaplan, pivoted in 2019 from a focus on advising entrepreneurs to selfinitiated projects.
Another former Rhode Island startup accelerator, Betaspring LLC, which once gained national recognition for its programming, evolved to its current iteration called RevUp Capital to focus on companies that had reached the next step in generating revenue.
And one source that played a role in funding ventures, Point Judith Capital – a private venture capital firm co-founded by former Gov. Gina M. Raimondo before she ran for office – moved to Boston in 2012 and has since rebranded as PJC.
But a growing base of incubator services has freed investment funds such as Slater to fill a resource gap at the next level of startup growth, Sparkman says. Earlier this year, Slater also launched an offshoot, RightHill Ventures, to focus on university-driven innovators.
Slater still works closely with incubators, but "we're freed up to focus a little more on the investment side, and what happens to a company after investment," Sparkman said.
The fund is also making larger investments – sometimes 10 times larger than what it could invest in its early days – such as a recent $1.5 million contribution by RightHill Ventures to Mind Immune Therapeutics Inc., a University of Rhode Island-based drug discovery company working to develop immune-system-based treatments for central nervous system diseases.
Innovation leaders credit Raimondo's background as a venture capitalist as another factor that fueled entrepreneurial growth in Rhode Island.
Raimondo-era programming included the establishment of RIHub in 2019 through the state's Innovation Campus program. The startup service draws funding from IBM, Brown University, the University of Rhode Island, and R.I. Commerce Corp., in addition to "soft" support from startup accelerator MassChallenge.
Tonti also credits Raimondo with bringing the Cambridge Innovation Center and MassChallenge to Rhode Island.
"It actually put a special focus on innovation and entrepreneurship in Rhode Island that hadn't been here before," Tonti said.
Raimondo established the R.I. Office of Innovation in 2016. The office closed quietly after she became U.S. commerce secretary last year.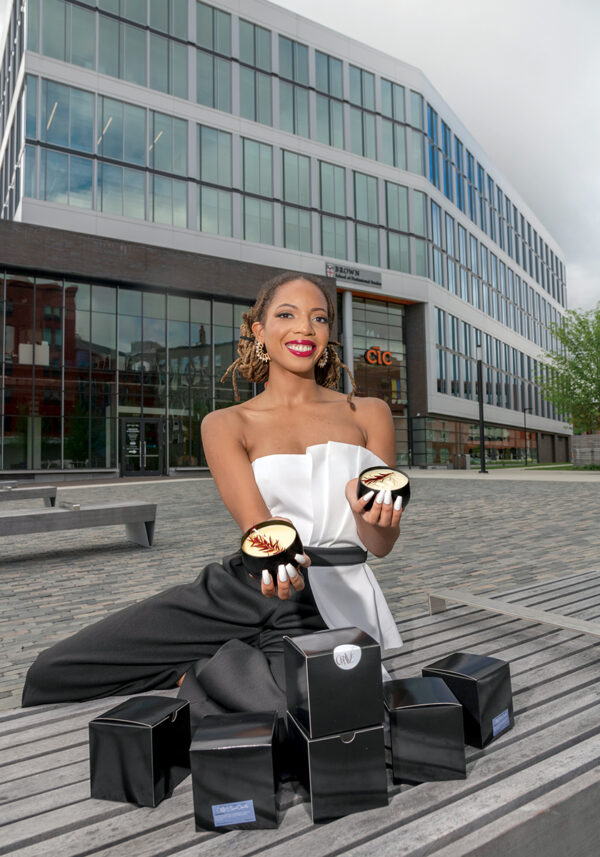 When reached for comment, former Office of Innovation Director Daniela Fairchild said the office had always been intended to be temporary, and that some of its programs, such as library technology improvement service Studio Rhode, live on independently or through other organizations.
Tonti was untroubled by the closure. She says the office served a different constituency than the startups that work with RIHub. And she feels the support for innovative businesses hasn't wavered among state officials.
Other innovation organizations weren't able to overcome pandemic-related hardships. The Tech Collective, a longstanding nonprofit providing networking and training opportunities for the state's technology community, shuttered at the end of 2021, citing the effects of the coronavirus crisis.
Like Tonti, Sparkman says he doesn't see the shutdowns as limiting entrepreneurship.
The collective "had a little bit of innovation in it, but it was more of an industry organization for tech people," Sparkman said.
And he hadn't even noticed the closure of the R.I. Office of Innovation. There is still "tons of architecture waiting for entrepreneurs," he said.
Zara Ayanna Salmon has been a beneficiary of that architecture.
Salmon launched a hemp-based cosmetics and cooking company called CRAVEInfused LLC in 2019 with assistance from Social Enterprise Greenhouse before moving to Connecticut in the early days of the pandemic.
Based near New Haven, Salmon enrolled in early-business programs and landed a microgrant, but she found many opportunities were only available to college students, such as those enrolled at Yale University.
Since relocating back to the Ocean State last fall, "I'm feeling like the opportunities are coming to me," Salmon said, noting assistance from the Social Enterprise Greenhouse incubator and the Rhode Island Black Business Association. "I'm not having to seek them out.
"People in Providence and Rhode Island share resources," she added. "A lot of entrepreneurs are in the same place, working at the same time … we know the struggle."
DESIRABLE CLUSTER
While the pandemic struck not long after RIHub's launch, the organization's growth hasn't been stunted, Tonti says.
RIHub has been expanding services to meet the growing number of startups and, in April, opened a full-service center in Newport to increase access for innovative businesses on Aquidneck Island and in southern Rhode Island.
The number of startups working with RIHub has grown 25% to 30% year over year, Tonti says. And 80 entrepreneurs are currently enrolled in RIHub's mentoring service pairing startups with leading industry professionals at no cost.
Staffing and funding have yet to grow with this uptick in activity, Tonti says, but the organization is in the process of applying for grants and connecting with potential sponsors.
The Cambridge Innovation Center's Providence site, which houses RIHub's original location, has also experienced growth throughout the pandemic: the 3-year-old building in the I-195 redevelopment district hosts 145 startups,
including 500 individuals, doubling in occupants since prior to the pandemic, says CIC founder and CEO Tim Rowe.
This growth has made Providence the fastest-growing CIC center out of the organization's nine locations around the world, Rowe notes. And no companies in the CIC have left Rhode Island for another state since the start of the pandemic, he adds.
"We are seeing lots of companies move in, and we are not really seeing companies move from Rhode Island to elsewhere," Rowe said.
This growth is "dramatic," he added. "It's not just a bit better than other [CIC] sites," which span from its Cambridge, Mass., headquarters to Tokyo.
Several factors may work into that trend, he says: businesses tend to naturally build up in clusters over the years, with one or two companies sometimes setting up in a location and drawing others in their industry.
Rowe has observed this among offshore wind companies at CIC Providence, which now hosts 20 startups from this sector. This movement likely started with Orsted U.S. Offshore Wind, which moved into the CIC building in March 2020, he says.
The later companies are "not necessarily choosing Providence – they're choosing the best space for an offshore wind company," Rowe said, "and right now, that's this cluster in Providence."
The Ocean State also has its own draws, he adds, such as a lower cost of living compared with Boston while still offering academic and cultural attractions.
"Rhode Island is providing really good value right now in a world where location is more flexible," Rowe said. "You can be hybrid or remote. You can have a really nice life in Rhode Island at a cost that's much lower than in some other cities."
And while other venture capital funding sources in Rhode Island are limited, the shift to virtual meetings has facilitated connections from farther away – a development Sparkman also highlights.
Sparkman once heard a fellow board member in one of his organizations say that no one will ever invest $100,000 in a startup without shaking the entrepreneur's hand.
"That's turned out to be wrong," Sparkman said recently.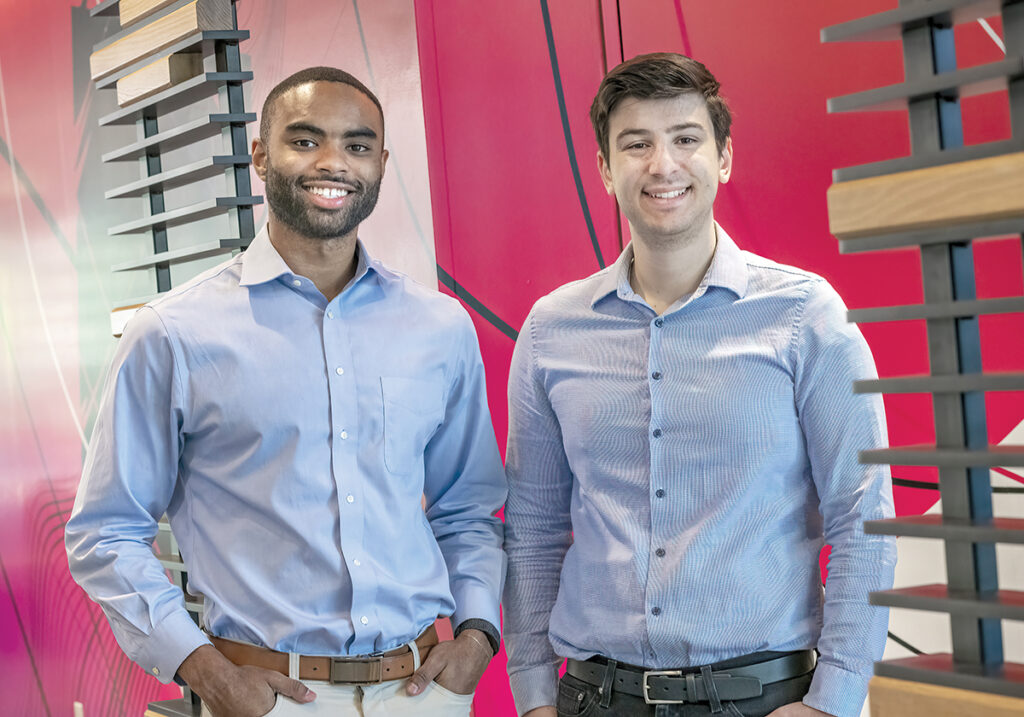 'FLYWHEEL ECONOMY'
The founders of Intus Care Inc., a Providence startup that uses data technology to identify health risks in seniors and assist elderly care facilities in improving outcomes, agree that a lack of funding can be a high hurdle for innovators in Rhode Island.
But co-founder and CEO Robbie Felton and co-founder Evan Jackson, both Brown University graduates, have no intentions of moving their headquarters to a larger startup hub.
They found ways to bridge the funding shortage through resources such as Brown's Breakthrough Lab summer accelerator and the Rhode Island School of Design, which helped connect the team with artists to develop an attractive and usable interface.
"Rhode Island is a wonderful place to work, and people really enjoy working here, and that's why we want to keep a large presence and footprint here," Jackson said.
"Also, we want to be part of the solution," Jackson added. "We understand Rome wasn't built in one day, and [we want to] get involved to support local entrepreneurs so more businesses can feel comfortable to stay here in Rhode Island."
Even without a move to Boston, many startups eventually have to shift their attention to larger innovation hubs for funding and other growth opportunities, says Ashley Medeiros, vice president of program strategy and partnerships at Innovation Studio Rhode Island, an organization providing small-business assistance and workspace for entrepreneurs.
"A lot do have to look to Boston if they really want to scale and find capital, and sometimes it's easier if you're based there," Medeiros said.
But Innovation Studio, which began in Boston, is expanding its Rhode Island services. A recent effort, the organization's "Biz Bodega" initiative, aims to provide office space and resources in underserved areas, with the first of these spaces launched in the Olneyville section of Providence in April.
Tonti also acknowledges that while available resources help entrepreneurs grow and remain in Rhode Island, "it comes down to them being able to get investments here.
"You create a flywheel economy where there are enough startups to keep hightech employers here, and excited about being here," she said. "And then investors, as well."
Bachenberg, CEO of Pointz, also acknowledges that staying in Providence means working within a smaller network. But like Jackson, she wants to be one of the startups that fuels the city's entrepreneurial vitality.
"I think there are a lot of resources available in Rhode Island, but it's an up-andcoming ecosystem," Bachenberg said. "It's small, but it's becoming more and more established as more ventures stick around."
By: Jacquelyn Voghel